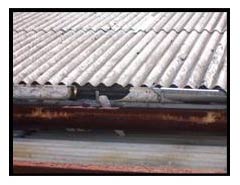 When asbestos roof surfaces are exposed to the elements over the years a loose surface layer develops which on roofs becomes colonised with lichen.
The lichen attacks the cement which causes the exposure of Asbestos Fibres. Asbestos weathered roofs that remain untreated give off dangerous fibres.
When weathered Asbestos becomes unstable it poses a significant risk to the community. In this situation, roof removal is always the preferred option.
Asbestos encapsulation is only permitted on stable Non Friable Asbestos.
Allstate Asbestos &Demolition Pty Ltd can apply a stabilising coat followed by a finishing coat to the roof in line with the manufacturers instructions.
Benefits
Decrease in roof cavity temperatures. Saves on cooling costs
Encapsulates any airborne Asbestos Fibres
Resists the growth of Algae
Increases the life of Asbestos Structures
Provides a modern appearance in new colours and adds value
to property.