QUESTIONS TO ASK BEFORE YOU REMOVE
HOW MUCH ASBESTOS IS PRESENT IN ASBESTOS CEMENT (AC) ROOFING?
AC materials typically bind approximately 10-15% of asbestos by weight in a cement matrix. This is considered to be a low concentration and being bound in a stable cement matrix is less likely to generate dangerous levels of airborne fibres, than when compared with sprayed coatings and insulation.
I AM THE CONTROLLER OF PREMISES WHAT DO MY RESPONSIBILITIES INCLUDE?
It is the responsibility of the controller of premises to identify the ACM, assess the risks posed by the ACM identified and implement the control measures to eliminate the risks arising from the ACM and prevent exposure to airborne asbestos fibres [NOHSC: 2018(2005)].
WHO SHALL I ASK TO AUDIT THE BUILDING AND ASSIST WITH THE RISK ASSESSMENT?
As per the NSW OHS Regulation 2001 a competent person is required to prepare Asbestos/Hazardous Materials Surveys, Asbestos/Hazardous Substances Management Plans, Asbestos Air Monitoring and Asbestos Clearance Inspections.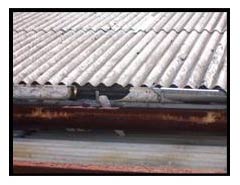 A competent person preparing the above documents should have: 
Demonstrated years of experience in asbestos related issues;

Appropriate Qualifications;

Appropriate levels of Professional Indemnity Insurance, specifically mentioning asbestos;

A solid understanding of Asbestos Removal options and techniques of asbestos removal;

Specialised knowledge of Asbestos Air Sampling testing and interpretation of results- Note: In general, consultants who are considered for major projects must hold NATA accreditation for both asbestos fibre counting and air volume measurement for asbestos air monitoring; and

A solid understanding of Asbestos Clearance criteria and the epidemiology of asbestos related diseases.
WHAT ABOUT AN ASBESTOS CONSULTANT? CAN THEY AUDIT MY BUILDING?
An Asbestos Consultant is a Competent Person suitable for the preparation of an asbestos site audit or asbestos/hazardous materials survey and Hazardous Substances Management Plan (HSMP). Asbestos Consultants may also be considered as Occupational Hygienists in their chosen field or specialized branch. An Occupational Hygienist can recognise occupational factors that cause illness or inefficiency and understand their effect on human beings; evaluate the magnitude of these factors and of the response of an exposed population to them; and prescribe methods to eliminate, control or reduce the influence of the adverse factors. If a consultant so chooses, he or she, may decide to make a submission to the Australian Institute of Occupational Hygiene, Inc and become registered as a consultant in occupational hygiene. Further study and experience may enable them to be considered for higher grades of membership.
Are all Occupational Hygienists the Same?
Persons acting as Occupational Hygienists, often have all the necessary requirements, experience and qualifications to do so, generally however they may not possess the specific skills necessary to advise on asbestos related issues. Be sure to visit the AIOH website  and select Asbestos Consultant from the Consultant Search area and ask your hygienist for evidence of their experience.
SHOULD I INVOLVE OTHER PROFESSIONAL CONSULTANTS TO ASSIST?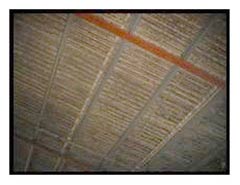 Structural Engineering Consultants provide engineering reports such as Structural Adequacy Reports assessing such things as cracks in roofing & walls. It is Structural Engineers who concern themselves with the inspection, monitoring, maintenance, rehabilitation and demolition of structures and structural systems and their components. Structural engineers carry out strength, serviceability (displacement), and fatigue calculations.
Involving a structural engineer as well as an asbestos consultant/ occupational hygienist is good practice and a highly recommended component of managing asbestos containing materials which are in the form of potentially brittle roofing materials.
I'VE NOTICED THAT A LOT OF DUST HAS ACCUMULATED ON SURFACES: IS DUST A POTENTIAL PROBLEM?
Yes, dust which has accumulated on surfaces found underneath an asbestos cement roof may be a potential problem. And this may depend more upon other factors such as your intended use of the building, the likelihood of any disturbance of the dust and the likelihood of personnel coming into contact with the dust, rather than simply its asbestos content. Although the possibility that dust may contain material such as asbestos or lead should be considered, it may be determined that it may or may not be an issue for your particular site and personnel. Nevertheless it is an important issue to determine and discuss, particularly before it is potentially decided for you by another party at a later time.
SHOULD THE ROOFING CONTRACTOR BE LICENSED?
WorkCover NSW says that "if you use a contractor to assist you and the area of bonded asbestos sheeting (fibro) is over 200 square metres, then you need to have it removed by a licensed asbestos removal contractor. If under this amount, then a license is not required". This is expected to change in January 2007 to 10 square metres.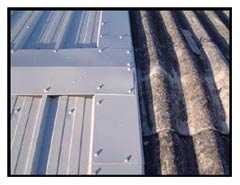 The definition of Licensed Work is found within Chapter 10 of the Occupational Health and Safety Regulation 2001: Licensed work includes a) demolition work; b) restricted demolition work; c) friable asbestos removal work and d) bonded asbestos removal work (other than work done in relation to bonded asbestos material having a total less than 200 square metres).
WHO SHALL I CONTRACT TO VACUUM THE DUST? CAN THE CONTRACTOR WHO REMOVES THE ROOF ALSO VACUUM THE DUST?  
The Occupational Health and Safety Regulation 2001 defines " friable asbestos material " as any material that contains asbestos and is in the form of a powder or can crumbled, pulverised or reduced to powder by hand pressure when dry.
Dust which has resulted from the natural weathering of asbestos cement sheeting and/or the removal of asbestos cement sheeting is a powder .
Years of degradation resulting from the effects of weather and industrial processes (such as chemical off-gassing) often results in thick accumulations of dust and debris on top of the internal structures of warehouse type buildings, for example the top of bearers, joists, door frames, machinery and trusses. If a warehouse with an asbestos roof has been converted to include levels of offices or a warehouse has small enclosed offices on the warehouse factory floor area, then it is likely that the surfaces within the ceiling space above the ceiling (and the ceiling surface) of the office/s will contain dust and/or debris which contains asbestos.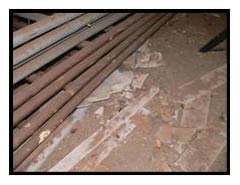 The dust is friable asbestos material. Only a contractor who is licensed for friable asbestos work should remove friable asbestos materials (i.e. a contractor with an AS1 friable license). The majority of asbestos roofing contractors have licenses which permit them to remove bonded asbestos containing materials only.
Questions to consider asking your contractor include:
How do they intend to approach the dust issue – Have they considered its possible implications? What advice do they give in relation to the "historical" dust which has accumulated within your building? Have they provided a price to remove this dust? Can they do this themselves or will they subcontract another asbestos contractor with an AS1 license to clean the surfaces? When will they do this? Before or after the roof removal? What reassurance do they provide in relation to the dust/debris that they themselves will create when they remove your roof? Will they provide plastic drop sheets within the warehouse, above the offices, exterior to the building? Are they insured against creating further issues of contamination? Are they available to talk to your staff?
As a controller of premises, have you considered the implications of removing AN ASBESTOS cement roof, leaving the dust and debris unaddressed, and thinking that your building is free of asbestos?
For example, you may experience problems in the future when a contractor or employee discovers dust/debris in the ceiling space above their office or in or adjacent to their machinery or work space.
Offices may be vacated or a factory may cease production until the areas are assessed and an asbestos removal plan is formulised and the area decontaminated.

The cost of dust removal at a later time may be higher and occur at an inconvenient time in relation to finances and production.
Consider engaging the services and advice of an occupational hygienist or asbestos consultant experienced in the areas of asbestos removal works, who is NATA accredited for asbestos fibre counting and air volume measurement, before you engage the services of a roofing contractor. They can help you ask the right questions. Consultants such as these often find themselves assisting clients after their workers have left the building, however they would prefer to help you and your employees/contractors before you undertake a roof removal or refurbishment project and help you avoid experiencing the confusion of a future unplanned asbestos discovery within your work environment. If adequately considered before hand, dust, debris and the risk these materials can potentially pose can be managed, clean ups if required planned and disruption minimized. A pro-active planned approach can save significant time, money and stress that would later be required when addressing perceived asbestos risks and a reactionary approach is the only option when publicity and confusion will be your main instigators of the works to be undertaken.
IS AIR MONITORING REQUIRED? WHO IS RESPONSIBLE FOR PROVIDING AIR MONITORING DURING THE REMOVAL?
Air Monitoring should be performed whenever ACM are being removed, to ensure the control measures are effective. [NOHSC: 2002(2005)]
All air monitoring requirements (such as location, rate, and frequency of sampling) should be determined by an independent competent person. [NOHSC: 2002(2005)]
The Occupational Health and Safety Regulation 2001 states that when a risk assessment indicates a need for atmospheric monitoring the employer (who is generally the entity who has commissioned the removal of the ACM) must ensure that the monitoring is carried out by a competent person in accordance with the NOHSC: 3003, and the analysis of samples obtained as a result of such monitoring must be carried out in a NATA accredited laboratory in accordance with the NOHSC: 3003 document.
WHAT IS NATA?
NATA is Australia 's Government-endorsed provider of accreditation for laboratories and similar testing facilities ( www.nata.asn.au ). To support its accreditation programs, NATA also operates proficiency testing programs (the National Asbestos Program-NAP through Proficiency Testing Australia), of which GETEX is a participant. The benefit of NATA accreditation & proficiency testing to the customer which NATA states is one that enable the customer to select reliable testing and measurement services .
WHO SHALL I USE TO INSPECT THE COMPLETED WORK AND ISSUE A CLEARANCE REPORT?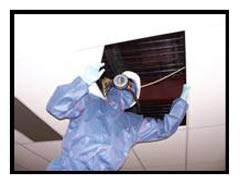 A clearance inspection is an examination of the area which has undergone an asbestos removal and is undertaken prior to completion of asbestos works in that area. It is the principal component in determining the removal of asbestos containing materials (ACM). A clearance inspection is done prior to the resumption of normal work in the area by unprotected personnel and must be conducted by a competent person, independent to the person responsible for the removal work. [NOHSC: 2002(2005)] 1. Only the competent person can issue a Clearance Certificate .
When is a Clearance Inspection required?
Before a clearance is granted for an asbestos work area to be re-occupied there must be a thorough clearance inspection. [NOHSC: 2002(2005)].
Who Must Obtain a Clearance Inspection?
The client should supply precise details of its asbestos removal requirements to the asbestos removalist and work specifications should address issues which include the arrangements for clearance inspections and air monitoring [NOHSC: 2002(2005)]
How should a Clearance Inspection be done?
A competent person must inspect at close range all surfaces from which the ACM was removed, they must go everywhere the asbestos contractor went, physically disturbing the abated surfaces and/or components, to reveal any visible debris. With the possible exception of obvious materials such as cement and paint, the competent person should not attempt to distinguish between materials thought to be asbestos material or non asbestos. Bulk sampling and analysis of residue only provides an indication of cleanliness and should not be used as an indicator of risk to health [NOHSC:2002(2005)].
Who should undertake or determine the need for air monitoring when performing a Clearance Inspection?
All air monitoring requirements (such as location, rate, and frequency of sampling) should be determined by an independent competent person [NOHSC: 2002(2005)] and performed in accordance with the NOHSC Guidance Note on the Membrane Filter Method for Estimating Airborne Asbestos Fibres [NOHSC: 3003 (2005)]. [NOHSC: 2002(2005)]
Prior to commencement of works, part of the planning process should include the need for " clearance monitoring ," control monitoring results and experience will assist the competent person in determining the level and/or need of clearance monitoring.
Note: Definitions for air monitoring programs, competent person, client, bonded and friable asbestos, and risk assessment can be found in NOHSC: 2002(2005), The Occupational Health & Safety Regulation 2001 and Code of Practice for Risk Assessment 2001 .
1 The National Occupational Health & Safety Commission (NOHSC) is now referred to as the Australian Safety & Compensation Council, 20 October 2005 .